Land Ho! Pirate Week Just
Off the Starboard Bow!
by Duncan Kane
It's the end of October and I'm sure you all know what that means: Homecoming (aka Pirate) Week is upon us. Since the members of your student council worked so hard to make this the best Pirate Week ever, I wanted to give you a preview of the fun they've put together.
First, I want to start with a big thanks to Madison Sinclair and her suggestion of selling Pep Squad Pie in replace of our candy fundraiser this year. It's been quite a hit! Several members of the faculty and local Sheriff's Department seem to have a soft spot for the Pep Squad and their pie. Good thing, too, because it's the reason we were able to get
The Faders
as the band for the dance. Yes, you heard me right, The Faders. With them on stage I certainly won't be getting no sleep that night! Because of all the dancing I'll be doing, that is.
I'd also like to remind everyone to get your nominations for the Homecoming Court in as soon as possible. Homeroom teachers will be taking nominations at the beginning of the week. Make sure your pick for King and Queen are on the ballot! Much like in the current race for Sheriff, every vote counts so don't forget to turn in your ballots and get an "X Marks the Checkbox" pirate pin before the end of the week. Winners will be crowned during the dance on Friday.
Everyone knows about the big game on Friday (
GO PIRATES!
) but we've got the week packed full of other great activities too. On Monday, the NHS Marching Band is hosting a Treasure Map Social during lunch on the football field. Pick up your treasure map at the sidelines and be the first to find the hidden booty.
Then on Tuesday, the Varsity Cheerleaders and Pep Squad will be offering up kisses for the best pirate talkers in school. You can visit their kissing booth throughout the day in front of the gym.
Wednesday brings the return of the popular Dress Like a Pirate Day. Come prepared to man the ship, mates!
(Note: Mr. Clemmons asked that I remind everyone [Dick] that real swords are not permitted on school grounds nor will any pirate 'battles' [Dick & Logan] be tolerated. He used threats like 'walking the plank' and 'keelhauling' so try to avoid flying the Jolly Roger in the halls.)
Every year we recognize Polly the Parrot on the Thursday of Pirate Week with Mascot Day. Members of NHS Track & Field teams will have Polly theme spirit goodies for sale throughout the day.
(Note: Mr. Clemmons also asked that I inform everyone [Dick] that Polly does not actually want nor eat crackers so it is not necessary to have packages of them delivered to the administration office every hour on the hour this year.)
And, as usual the Homecoming Pep Rally will be held Friday afternoon. All students are encouraged to wear yellow and green and all athletes are asked to wear their uniforms for the day. Show your Pirate Pride!
As you can see, it's going to be a busy week and we've even got a few extra surprises. Listen for those announcements throughout the week.
No Pirate Week is complete without a party to finish it off. We've got great music, tasty beverages, and a decked out gym. All we need now is you, on the dance floor. Tickets will be on sale all week long at the student council table by the gym. Be sure to get one for you and your date.
(Note: Mr. Clemmons would like me to note that due to complaints about last year's dance, students will no longer be required to wear formal attire to attend. However, he would like me to clarify that students [Logan] are still required to wear pants and shoes.)
Avast, me lads and lasses! Don yer fancy rags and join me in the gym this Friday for a bit of grog and dancin' to The Faders! ARRR!
Veronica Mars:
My life hasn't been exactly normal as of late. The crazier things get, the more I yearn for normalcy — the calm, the subdued, the mundane. You know what excites me these days? Boredom.
A couple of weeks ago, I made normal my watchword. And for one brief shining moment, the fair land of Normaldom seemed on the edge of my horizon, if not yet within walking distance. I had not only rid myself of anything that and anyone who refused to get back there, I'd made positive advances in the right direction. A normal job? Check. Normal boyfriend? Check. Surely a normal life was mine for the asking. I took what, for me, was a big step on my journey. I went on a high school field trip. Voluntarily. To a baseball park. Apple pie and white picket fences, here I come, right? Wrong. A bus full of kids careening off a cliff is decidedly not normal.
Wallace Fennel:
That's your problem, V. You're always overshooting. A journey of a thousand miles begins with a single step — you know?
VM:
So you've said, Wallace, a thousand times, in fact.
WF:
Seriously girl, you've gotta take it slow. A huge handful of changes in a few weeks' time just isn't normal.
VM:
Yeah, Wallace. You've said that, too. Can I tell the people your prescription for the condition my condition is in?
WF:
Be my guest.
VM:
Actually, you're my guest in this space. I should explain to the people following along at home: Wallace "Air" Fennel, awesome 'baller', threat to baked goods and bodacious babes alike, is going to tutor me in getting back to normal, and we're going to blog about it here, from time to time.
WF:
Back to normal?...
VM:
Let's not quibble. Anyhow, all around normal guy Wallace Fennel thinks — he thinks I need to watch more TV.
WF:
You tell me — what's more normal than TV, V? Not just any TV though. You can't go all Sci-Fi fantasy — you are so not ready for that. Drama? I'm pretty sure you've got that covered.
VW:
Word.
WF:
Don't say word. And whatever you do, you have to stay away from procedurals.
VM:
Even
CSI
?
WF:
Yep.
VM:
CSI: Miami
;
CSI: NY
?
WF:
All of 'em, and none of the
Law & Order
series, either.
VM:
But lots of normal people watch those shows. They must, or there wouldn't be so many, and they wouldn't stay on the air so long.
WF:
Yes, but those people are already normal; you're trying to get normal, or at least approximate it. Girl, you need baby steps. You need sitcoms.
VM:
No.
WF:
Yes. And probably a few reality shows too, but I know...
VM:
I can't.
WF:
Right. And having known you for the past year, I can understand how your brain refuses to allow 'reality' and 'normal' to exist in the same context. But sitcoms? You can totally do this, Veronica Mars.
VM:
I don't know. I thought you'd come up with something a little more...more.
WF:
Hey, it's up to you. If you refuse to learn, I refuse to teach.
VM:
I don't mean to reject your advice out of hand, O Great Guru of things Garden Variety. I love comedy. Most of my favorite movies are comedies, and some are dumb enough that I'm not going to admit them here. But TV sitcoms? It's just — the laugh tracks. I can't. I used to. A lot. But not any more.
WF:
Hey! Give a brother some credit. Don't you think I know that? If you were normal, you wouldn't give too much thought to laugh tracks, but I digress. Besides, the series I have in mind has no laugh track.
VM:
For real?
WF:
Would I lie to you?
VM:
Probably. Most people do.
WF:
Let me rephrase that. Would I lose my credibility with you — over something this trivial? I mean if there is a laugh track, you'd know within the first two minutes, so what's the point?
VM:
True. Okay, I'm listening. Continue.
WF:
Well then, listen to their slogan:
Inappropriate remarks. Petty behavior. Zero productivity. All in a day's work.
VM:
They made a sitcom about Dick Casablancas and Madison Sinclair's love life?
WF:
Damn. I just spit Mountain Dew all over my monitor.
VM:
Sorry about that. Seriously though, what is this show? I'm already intrigued.
WF:
I knew it! And you should be. Wallace Fennel will not steer you wrong. It's NBC's
The Office
.
VM:
Oh, I don't know. I actually did catch much of the British series, and I loved it — so anti-sitcom. Why watch a retread?
WF:
Of course you caught the British series. We've already established you're not normal. Anyhow, after the first episode, it's not actually a retread.
VM:
Sounds like I'm not the only one who watched the original.
WF:
Hush, you. Listen. Learn. My point is, NBC's
The Office
is just funny. And most of all? It's normal. It's a normal little show, on a normal network you don't even need cable to watch. It's about normal everyday life, in a normal office of a normal paper company...
VM:
Where's it set?
WF:
Pennsylvania. I ask you, what's more normal than Pennsylvania?
VM:
What if I hate it?
WF:
I can almost guarantee you won't, but if you do, then you do what normal people do.
VM:
Which is...I mean, have you lost sight of my goal? Keep your eyes on the prize, Fennel.
WF:
I am. If you hate it (which you won't) you stop watching.
VM:
That's it?
WF:
In its entirety. Who watches shows they hate? And you know, they just released the first season in August. I like
The Office
so much, I spent a good chunk of my Sac-n-Pac paycheck on the DVDs. They're yours for the taking. Um...not to keep, though.
VM:
How far are they into the second season? Have I missed too many?
WF:
First of all, it's a sitcom. An actual normal girl wouldn't need to catch up at all. But I'm tailoring this tutorial to suit your needs. You do need to take baby steps, and I sure don't feel like answering all your questions, so it's better if you just watch from the beginning. So, where were we? Right. They're five or six episodes into the second season now, but I've got them all on my TiVo. Watch the season 1 DVDs, and when you're done I'll burn you some DVDs of the second season.
It's as easy as pie. Apple. Eaten on the inside of the white picket fence.
VM:
Um, Wallace?
WF:
Yeah, V?
VM:
How 'normal' is it that you love a sitcom so much, you've bought the DVDs, are worried about me watching in order, have saved the new episodes on your TiVo, know how to burn them to DVD, and are using up the last drop of your pimp juice, pimping it to me?
WF:
Low blow, Mars. First thing you need to remember — my supply of pimp juice? Unlimited.
VM:
Gotcha. And the second?
WF:
Sit down. Shut up. Watch the damn show. Here, have some popcorn.
VM:
'Normal' my ass. I always knew I liked you.
Well, that's it for this time. Next time, assuming I like this show, Wallace and I will review the episodes I've watched. 'Til then, I leave you some Albert Camus to ponder:
It is normal to give away a little of one's life in order not to lose it all?
WF:
Albert Camus? This is going to be tougher than I thought. I, on the other hand, leave you with some plain, old, ordinary Michael Jordan:
I'm just a normal guy.
Hey, folks. Eli "Weevil" Navarro here. Today, I'm gonna talk about a topic that's close to my heart, literally, and one of my favorite pastimes. Tats. Ink. Body Art. Tattoos, like motorcycles, aren't for sissies. If you don't like needles, or, if you're like some pansy 09ers I know and faint at the sight of blood, you probably shouldn't be thinking about ink, 'cuz it ain't for you. Ink should mean something, so if you have some wack idea about getting Tweety Bird on your ass, you should probably think again. Serious ink, and by that I mean something more than a heart that says "Moms", requires cojones.
[Editor's note: by "cojones" you mean intestinal fortitude, don't you, Weevil?]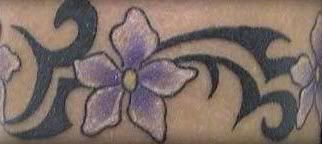 Now, if you're a chick and you're thinkin' about having your man's name inscribed on your skin, you better be sure the guy's for real, because having a tat lasered off ain't no walk in the park. I got no problem with a sexy chica who's got a discreet tat or two, but I don't want mi Abuela to think I'm dating butchy Betty, or Earl from the impound yard dressed in drag. If you want guys to know you're more Alyssa Milano than k.d. Lang, I'd go with some classy and tasteful body art. Of course, if you'd rather be kissing Alyssa Milano, that's cool as long as I can come too. Either way, a bracelet or a nice flower shows you're a girl, but also a bad ass, and there's nothing sexier than a bad girl I can bring home to Letty Navarro. By the way, no matter what Veronica Mars thinks, head tilts and hair flipping are more 'girly-girl' than bad ass.


There are thousands of different designs for tattoos, and choosing one can be overwhelming – me, I keep finding new art I want – but almost anything, a phrase, a native American design, a picture of your ride, can be made into a tat. If you can draw it, I know a guy in TJ who can make it happen. I don't recommend getting inked in Mexico, or anywhere else though, unless you've got plenty of props for the place. The right tattoo artist is like a good mechanic: there're lots of mediocre ones, so finding a great one is a huge deal. If you pick a bad mechanic and he screws up your car, you may be aggravated and have to spend a few extra thousand, but if you goto a bad tattoo artist, you could end up with Hepatitis C or a portrait of your Mom looking like Betty Boop on crack. Because some people are idiots, I'll state the obvious - Listen to the instructions on how to care for your tattoo. Wrapping a fresh tattoo in plastic just so you can show it off is pretty much like asking for a flesh-eating skin disease. You'd be better off just wrapping your head in plastic; at least that way, there'd be one less moron on the planet.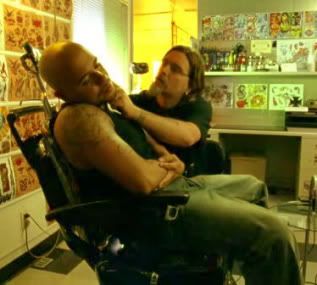 Back when I was a shortie, I got a couple of my tats in NYC. Here in sunny CA, I've continued to adorn my bod every year or so, as you can tell by comparing the pic at the top with the more recent one on the right. For me, ink is very personal and not something to share with everyone. My tats are covered most of the time, so unless you're family, mi novia, or one of my dawgs, you won't see much of them. I've included a picture of me getting inked, and a couple of my tattoos, but unless we're friends, I ain't gonna tell you what they represent. Some people tell their life story in crappy poetry or sappy music. My life story is expressed in my ink. You really wanna know about me?

Ask about my tattoos. Maybe I'll tell.



So as part of our focus on the upcoming election, I interviewed
Sheriff Don Lamb
. He's got my vote. Tough on crime and cute to boot, unlike
his bald opponent
.
Neptune Navigator:
Sheriff Lamb, thanks so much for taking the time to talk with me. We so appreciate it.
Sheriff Don Lamb:
I'm here to serve the people.
NN:
And you do it so well! I'd totally vote for you if I was 18.
SDL:
You're not 18? You seem so mature.
NN:
Thank you! People often tell me that I don't act my age. I turn 18 in a couple of months. Anyway, why do you want to be Sheriff?
SDL:
I just love helping and protecting people. It gives me a real sense of self-worth, you know?
NN:
Oh totally.
SDL:
And I'm good at it too. Violent crime has dropped 11% since I've been in office.
NN:
I know I feel safe. Now I have some questions submitted by my peers. Stu Dent wants to know, 'How do you respond to the accusation that your role in Keith Mars' removal from office is not dissimilar to Darth Vader's betrayal of Obi-Wan Kenobi?'
SDL:
While I don't like the Vader comparison, I would agree that I took what I learned from Keith Mars and harnessed the 'force' in a superior way.
NN:
Sci-fi dorks shouldn't be allowed to breathe. This one's from Dorothy. 'Do you see rape as a serious crime?'
SDL:
Um, well, I take all crimes seriously, no matter their nature.
NN:
I'm sure you do. Phil Klemmer wants to know, 'Can I have my kegs back?'
SDL:
No. They have been disposed of.
NN:
Sorry about the weird questions. Younger men are so lame.
SDL:
The young people of this town need more positive role models, in my opinion. Once I'm re-elected I will be able to continue to provide a positive example for them to follow, unlike my predessessor who currently makes his living peeping in other people's windows.
NN:
I know! Keith Mars and his offspring's behavior is, like, totally shameful. What else have you done since becoming Sheriff?
SDL:
I've made physical fitness a priority in the department, something Keith Mars ignored while in office. I want my men fit and capable.
NN:
And you clearly lead by example. It's totally admirable. I'm a cheerleader myself so I'm, like, totally in shape too.
SDL:
I can see that.
NN:
I'm betting the campaign has been expensive. How have you been raising funds? If you need any help, I do a lot of fundraising for the Pep Squad. I'm, like, such an expert at selling Pep Squad Pie.
SDL:
Pep Squad Pie? Wow, that sounds delicious.
NN:
Oh it totally is.
SDL:
Um, what was the question again? Fund raising, right? Well, several highly respected members of the community, who have faith in my abilities, have been very generous.
NN:
Thanks for talking with me Sheriff.
SDL:
My pleasure. Maybe we can do a follow-up interview in a couple of months?
NN:
I'd like that. I mean, it'd be totally cool for the
Navigator
.
[Editor's note: Logan would like us to clear up the rumor that he is actually the questioner "Stu Dent." He is not actually Stu Dent and he does not actually still have his Star Wars sheets either.]
I talked with
Ronnie's
dad,
Keith Mars
. He's a P.I. and running for Sheriff.
Neptune Navigator:
So Mr Mars. I've been sent here to interview you on, like, teen issues or whatever because you're running for Sheriff again.
Keith Mars:
Sure thing. Fire away.
NN:
So why do you want to be a boy in blue again? Except not, you know, in blue because you guys wear like tan or something.
KM:
Well, I love Neptune. I think it's a great town. But I don't feel safe here with the current Sheriff in charge. I want to protect my child and everybody else's children from horrible crimes like the bus crash.
NN:
Well I think that covers that. So, have you ever shot anybody?
KM:
Sadly, I have had to. A man was attacking his step-daughter. I shot him in the shoulder, an injury he's recovering from in prison.
NN:
Awesome!
KM:
No, it certainly wasn't 'awesome'. No person should ever have to resort to drawing a gun in order to protect themselves or others.
NN:
Right. So I've got some questions other students submitted. Ima P-something wants to know, 'What is your position on officers of law taking bribes or making exceptions for the wealthy?'
KM:
I think it's disgusting and I hope to stamp out any such corruption. Officers of the law need to treat everyone equally, free of prejudice and bias.
NN:
Rock on. Enbom wants to know, 'Can you give us a warning phone call five minutes before you come round to break up our parties?'
KM:
No.
NN:
Really? Cos that sounds like a pretty sweet idea.
KM:
Dick, if you need to know when the cops are coming, you probably shouldn't be doing whatever it is you're doing.
NN:
So Cassidy - hey this one is from my little bro! - wants to know, 'Do you think Goodman is qualified to be county supervisor?'
KM:
I know Woody's had a lot of experience, creating his own small business and owning the Sharks baseball team, that can be applied in this position. He's an active member of the community, who spends a lot of his spare time coaching Little League Teams. I'm sure he'll do his best.
NN:
So what'll you do if you don't win?
KM:
I'll continue to solve crimes as a P.I.
NN:
One final question. Do you keep all the negatives of your 'money shots'? And would it be possible to buy them from you?
KM:
No.
NN:
But-
KM:
Richard, those moments are very personal. I respect my clients and the people in those photograph's privacy. Thanks for letting me talk with you but I think it's time for this interview to end.
NN:
You're a busy man, I get it. Thanks Mr. Mars. And call me about the negatives kay?
Click the link below to find out more about the Mars campaign.
The Editor told me to start writing my reviews of
Supernatural
with the current episode, rather than beginning with the beginning of the show. Which makes sense, because otherwise, I'd never catch up. For those of you who are new to the story, here's a recap.
Supernatural
is a funny and exiting show about two brothers driving around the country in their junker car, listening to heavy metal music and helping people who have problems with demons and ghosts. And both of them are incredibly cute. I mean the brothers, not the demons and ghosts.
Seriously, I can't pick my favorite brother. If I absolutely had to choose, I'd pick the younger one, Sam Winchester, because Dean Winchester would break my heart and then steal my wallet. He'd do it for the greater good, to keep fighting the forces of evil, but I'd still be broken hearted without my credit cards. Talk about a double whammy. Okay, my Platinum Visa would mean the brothers get to spend a few nights in a decent motel, but still –- how am I supposed to console myself if I can't buy shoes? Plus, what is with Dean always wearing the collar of his leather jacket flipped up? Is this 1985? I swear, that guy is a total fixer-upper. Sam, on the other hand, is adorable and broken-hearted because his girlfriend was killed in the pilot episode by the same demon that killed the boys' mother, by ripping out her guts and sticking her to the ceiling. And then lighting her on fire. Like the first two things weren't bad enough.
Sometimes, Dean and Sam's father (John Winchester) joins them on their quest, but most of the time they can't even reach him on the phone, and this adds a totally tragic element to the show. Even though the Winchesters are badass warriors, all they've got is each other. I can really relate to this, because my father travels a lot on business, and I miss him so much when he's gone. I think about what might happen if he weren't around, and nuclear war broke out, or the zombies took over. Would my brother Rodney and I be brave and strong like Dean and Sam, or would we hide behind the couch? I like to think we'd fight. Even though Rodney is a total weirdo, I do love my little brother, just like Dean loves Sam. They get on each other's nerves, exactly the same way as Rodney and me, but that's all part of being a family.
Anyway, I have to TiVo my
Supernatural
episodes and then watch them in broad daylight. Forget about watching
Supernatural
after dark – it's too scary. I know Logan watches the show, too. I think we should do a point/counterpoint article sometime because he's really smart, and of course, he has a guy's perspective. I heard him tell The Editor that he watches
Charmed
with the sound turned off. I think that's a great idea. I wonder if he does that with
Supernatural
, too. That would definitely make the show less scary, if you don't mind missing the plot. And it's so nice when guys can admit they are vulnerable.
But, enough about the
Navigator
staff. This week's episode of
Supernatural
is "Hookman" (the seventh episode), and in this one, the brothers take on the most classic urban legend of all time –- the killer with a hook for a hand.
People start getting killed at college, and that makes me a little nervous about being a college freshman next year. No, I'm only kidding. If a string of bloody murders breaks out at
Hearst College
, I know there will be an explanation not involving a ghost preacher with a silver hook. But, if it is a ghost preacher, I'd love to see John Winchester and Mr. Mars team up to fight evil. Wouldn't that be awesome? Hookman wouldn't stand a chance.
I identified a lot with the "Hookman" episode, because the main character (aside from Dean and Sam) is a minister's daughter, and she is mysteriously connected with all the killings. My father isn't a minister, of course, but a lot of people look up to him as a positive figure in our community. And the minister in the show almost gets killed by Hookman.
Hookman punishes people he believes are evil-doers, but innocent people end up getting killed as a result, before the brothers can stop the ghost. Then, it turns out the minister is having an affair with a married woman in his church, which makes him not as noble or good as he pretends to be. I thought about whether the minister deserved to be killed, because what he did was a lot worse than anything the dead people did. I wondered what I would do if someone in my family taught me one thing, but their actions were completely the opposite. What would I feel or do? I couldn't come up with a good answer.
Supernatural
is such a well-written, intelligent show. They mix in a moral with the spookiness and the action, and they make you think. (Plus, don't forget the cute guys.) It's on the WB every Thursday night at nine p.m., so be sure to tune in for a really good scare!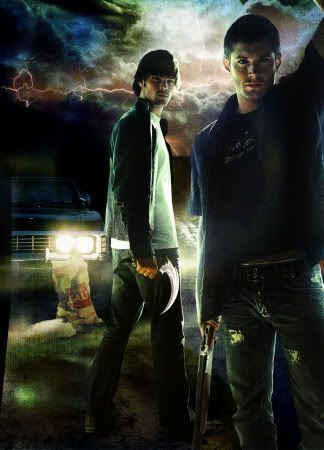 Dear Logan,

I eat all the time, and I'm gaining tons of weight. I'd like myself so much better if I were skinny, and I think other people would like me more, too -- especially boys. My parents tell me to love my body, but I can't. I feel so ugly. Every morning, I wake up and I tell myself I won't eat today, and then I eat something, and I feel horrible, and I end up stuffing my face. How do I break this cycle?!

-- Fatty, Fatty, Two By Four
Dear "Fatty,"
I'm no health expert. I'm not even an advice expert. Nonetheless, here are my two cents. Your body needs fuel. When it's running on fumes, it sends out a hunger signal. That means you need to eat something. If you don't eat, your body uses what it's got on hand: your muscles. The last thing your body burns is fat, because that's the lowest-grade fuel. You end up all fat and weak. Think you're ugly now? Stop eating, and eventually you'll die. Nobody wants to hang out with a dead girl. Except me. Then again, I've got issues.
If you're hungry, pick up a damn sandwich. I recommend the burgers at the Roadhog. (Link to their online menu below.)
Just try not to get killed when you're eating though. Lots of the "local flavor" hang out there.
-- Logan
***
Dear Logan,

When my boyfriend and I make out, I don't know where to put my hands. My boyfriend runs his hands all over my back and my butt and my arms. Everywhere, pretty much. The problem is I don't know where guys want to be touched, and where they don't want it. Please let me know if there are any areas that are taboo on a guy.

-- Bad Touch
Dear Bad Touch,
Hey, I've got a great idea! Try talking about this with your boyfriend! No, strike that. Don't. If all of you suddenly started acting rationally, Your Advice Guru would lose his job. Plus, I'd be the only crazy person in town. Imagine how awkward that would be at parties.
But, back to your tragedy. Unless you're somehow fondling your boyfriend's internal organs, there are no "hands-off" zones on the male body. In fact, there are several areas where additional, repeated attention is always welcomed, and most men feel that this particular type of friendly gesture (so to speak) is not extended nearly as often as it should be.
-- Logan
***
Dear Logan,

My boyfriend's best friend is around ALL the time and it's getting on my last nerve. I swear, it seems to be his life's mission to irritate me on purpose. How can I get rid of him before I give into the urge to kill him and dump his body in the Bay?

-- Annoyed in Neptune
Dear Annoyed,
Perhaps you should begin by examining why your relationship with your boyfriend is so deeply unsatisfying that you feel the need to take out your numerous frustrations on his poor best friend.
I know this will be extremely tough for you, but try to set aside your God Complex and your plans to monopolize your boyfriend every single second of every day. Consider that this third wheel –- who you yourself refer to as your boyfriend's best friend –- may actually miss the company of his own best friend. Yes, it's shocking, but it is possible that this guy's presence in your boyfriend's life has nothing to do with you. Close your eyes and picture a world that does not revolve around you and your staggering amazingness. I realize it's a stretch. Maybe you'll get better if you practice.
-- Logan
***
Dear Logan,

Lately, it seems like every time I look at the clock, it's always seven minutes after whatever hour it is. This is starting to seriously freak me out. Do you think it means something?

-- Clock Watcher
Dear Clock Watcher,
Exactly the same thing happened to me last August, following a trip to Cabo, most of which is a blur, but Dick Casablancas told me we totally rocked the Casbah, plus he owes me big time for helping him bury those three dead hookers out in the desert, except now that I think of it, I'm almost positive one of them was a nun.
You are receiving coded messages from the future. Good luck!
-- Logan
Have a question for Logan?
Send an email to
editor@neptuneonline.org.
You have entered room: Sound Off.
Duncan_Kane:
Greetings, Neptune High. This week we will be discussing the upcoming county election. Since many of us will be voting for the first time, Mr. Clemmons felt it was important for us to address the issues that will be affecting our decisions. As Woody Goodman is running unopposed, our main focus will be on the Sheriff's election, which has moved from a sure fire victory for Keith Mars to a closely contested race between current sheriff Don Lamb and former sheriff Keith Mars.
Logan_Echolls:
I don't really see the benefit of voting in this election since both candidates consider me a 'suspicious person.' I might as well start decorating my jail cell now.
Veronica_Mars:
Well, at least you can finally put your subscription to Martha Stewart
Living
to good use.
Logan_Echolls:
It was a 2 for 1 offer with my
Playboy
...
Veronica_Mars:
There's no need to be embarrassed because you know how to make Hummingbird Cupcakes, Logan.
Duncan_Kane:
Guys, could we possibly get back to the topic of the election?
Logan_Echolls:
Yeah, Mars. Save it for when we're all in the same room; that way, Duncan can referee.
Madison_Sinclair:
I'd like to talk about the election. I interviewed Sheriff Don Lamb for the paper and I think he should be re-elected.
Duncan_Kane:
I read your article, Madison. It was interesting. Gia? Dick? Beaver? What are your opinions?
Cassidy_Casablancas:
I've told you, my name is Cassidy, not Beaver. And I don't see why I have to be a part of this week's "Sound Off" since I can't vote anyway.
Madison_Sinclair:
If Beaver gets to leave, I should be able to leave too. I'm not 18 yet either!
Duncan_Kane:
Nobody is leaving the chat room. This is part of your duty as members of the
Neptune Navigator Online
staff, whether you can vote or not. Gia, what are your thoughts on the election?
Gia_Goodman:
I think Veronica's Dad should win, since my Dad thinks he'd do a great job as sheriff.
Madison_Sinclair:
Well, I think the current sheriff is a lot better looking than the former sheriff.
Veronica_Mars:
I'm glad your Dad thinks my Dad should be sheriff, Gia, but you should base your decision on where the candidates stand on the issues, not just what your father thinks. Not to mention, way to get to the heart of the important issues, Madison.
Madison_Sinclair:
Whatever, Veronica. It's not like Neptune is some hot bed of crime.
Logan_Echolls:
Yeah, murder never happens here. Oh wait...
Duncan_Kane:
I don't think it's accurate to say that crime never happens in Neptune and therefore the Sheriff's election is irrelevant, Madison.
Gia_Goodman:
Lilly Kane was murdered in her own backyard.
Logan_Echolls:
Thanks for reminding us, Gia. We never would have remembered otherwise.
Madison_Sinclair:
I meant that it's not like this is Los Angeles where murder happens every day.
Veronica_Mars:
So you're implying that you'd prefer to have an incompetent but pretty Sheriff? What about the off-chance there's an actual crime that needs solving?
Dick_Casablancas:
Dude! He can just hire your Dad to investigate!
Duncan_Kane:
What about you, Cassidy? Do you have an opinion?
Cassidy_Casablancas:
Like I said, I'm not old enough to vote yet, and I don't really care who the sheriff is, but since you're asking, has anyone even asked yet what makes Woody Goodman qualified to run for county supervisor?
Logan_Echolls:
Wait a second, are accused felons allowed to vote? I'd hate to drive all the way over there and be turned away at the voting booth. Talk about embarrassing.
Gia_Goodman:
I think it's only dead people that aren't supposed to vote.
Veronica_Mars:
I'm not going to touch that. As for voting rights,
convicted
felons can't vote in California. Given your current behavior though, Logan, they'll eventually prosecute you for something you actually did, so it's a good thing orange is your color.
Logan_Echolls:
Personally, I prefer earth tones.
Duncan_Kane:
That's great, Logan, but since you are currently an "accused" and not a "convicted felon, how will you be voting?
Logan_Echolls:
Is there a 'None of the above' option?
Veronica_Mars:
Yes. It's called abstaining, but I guess that's kind of a foreign concept to you, huh?
Madison_Sinclair:
Gee, Veronica. I heard Logan isn't the only one that hasn't heard of abstaining.
Veronica_Mars:
I must have missed the news bulletin when you became a vestal virgin, Madison.
Gia_Goodman:
What does 'vestal' mean?
Madison_Sinclair:
And people think
I'm
blonde?
Veronica_Mars:
No one really thinks you're blonde.
Madison_Sinclair:
Well, no one thinks you're good enough for Duncan.
Duncan_Kane:
That's enough, Madison!
Dick_Casablancas:
Dude! Chick fight!
Duncan_Kane:
Shut up, Dick!
Veronica_Mars:
Shut up, Dick!
Logan_Echolls:
Shut up, Dick!
Madison_Sinclair:
Shut up, Dick!
Gia_Goodman:
That was weird.
Madison_Sinclair:
Have I mentioned this is a farce?
Duncan_Kane:
Yes, Madison, and thank you for once again offering your opinion on something other than today's topic. We have ten more minutes.
Madison_Sinclair:
Fine. On topic, I think Don Lamb should be re-elected.
Duncan_Kane:
Any particular reason for your opinion, Madison, other than he's good looking?
Madison_Sinclair:
Well, he let me out of a speeding ticket.
Veronica_Mars:
Of course he did. Maybe that should be his new campaign slogan? Vote for Don Lamb! Neptune corruption at its Finest!
Gia_Goodman:
I got a ticket once. I drove on the sidewalk once because I accidentally dropped my lipstick and had to pick it up.
Logan_Echolls:
Remind me to not to be on the road at the same time as you, Gia.
Gia_Goodman:
I don't think I'm a bad driver.
Duncan_Kane:
Veronica, would you like to share with us some of the reasons why the people of Neptune should vote for your Dad?
Veronica_Mars:
How about because he actually cares about justice, solving crime, and making Neptune a safer place?
Gia_Goodman:
I think those are great reasons to vote for him!
Dick_Casablancas:
But what's his stance on underage drinking?
Veronica_Mars:
Well, Dick, unlike Lamb, my Dad won't hijack your kegs for his own backyard barbeque.
Dick_Casablancas:
Sweet! I'm voting for Keith Mars!
Madison_Sinclair:
Oh please. Didn't you listen to him when you interviewed him?
Dick_Casablancas:
Sorta. There was a hot chick in the hallway, bending over to clean out her bottom locker, so it was hard to pay attention.
Madison_Sinclair:
I can't believe I used to date you.
Duncan_Kane:
I can't believe how off topic we've gotten. Cassidy, what were you saying about Goodman's qualifications?
Dick_Casablancas:
He left.
Duncan_Kane:
What? The computer didn't say
"Cassidy Casablancas has left the room."
Dick_Casablancas:
Yeah, he left it on and just walked away from it.
Duncan_Kane:
Is anyone still here?
Logan_Echolls:
I am. I'm still trying to decide whether I should vote for the guy who hates me or the guy who hates me. It's a dilemma.
Duncan_Kane:
I think Veronica presented some very solid reasons why Keith Mars should be elected Sheriff.
Veronica_Mars:
Thanks, Duncan.
Gia_Goodman:
He has my vote, Veronica.
Veronica_Mars:
Thanks, Gia. I'm glad we can count on your vote.
Madison_Sinclair:
I think I may hurl.
Logan_Echolls:
Time to "purge" that cheeseburger I saw you scarfing at lunch, Maddy?
Madison_Sinclair:
You are such a jerk. I don't even know why I hang out with you.
Veronica_Mars:
I think it's the herd mentality.
Madison_Sinclair:
Oh my God! Did you just call me a cow??
Duncan_Kane:
And on that note, I'm declaring this Sound Off officially over. Have a safe and fun time at the dance tonight, Pirates! And don't forget to wear pants.
Special thanks go out to
aftersolong
,
babsonite
,
bennet_7
,
cindywrites
,
dark_roast
,
maka2000
,
rindee
,
rowanceleste
,
raelee
and
spadada
.